Discipline Priest Mythic+ Dungeon Tips & Tricks
Mythic+ is a special type of dungeon mode in World of Warcraft, offering players an endlessly-scaling challenge.
This page is meant to help optimize your Discipline Priest in Mythic+ content by highlighting the best Discipline Priest gear, best Discipline Priest talent builds, and the best rotations to help you succeed in these challenging dungeons, as well as Discipline specific tips and tricks both for individual dungeons and the Shadowlands Season 2 Tormented Affix in Shadowlands.
Best Legendaries for Discipline Priest
With the rise of Kyrian for Discipline comes the Spheres' Harmony legendary. This legendary is excellent in Mythic+ for reducing the cooldown of Boon of the Ascended by a full minute to allow more frequent uses and reduce Shadow Mend spam reliance, increasing your overall damage and Atonement output by a sizeable amount. In a raid environment, this legendary can work well on encounters with damage profiles that have excessive gaps between them. On PTR Soulrender Dormazain for example had about 2:10 mins between his main mechanic's large aoe damage. With this legendary, you could guarantee Spirit Shell and Boon of the Ascended would be available together each time, resulting in consistently massive shields on the raid.
If you are NOT Kyrian, then Twins of the Sun Priestess is still a good Mythic+ legendary that allows you to keep Power Infusion while sharing it with an ally. Coordinate with the DPS in your team to find the best time to utilize this cooldown on big pulls and let them know when you might need the buff timed for yourself in difficult to heal areas.
Best Discipline Priest Mythic+ Talents
The build you will be using in Mythic+ is the following. Keep in mind that you can run Schism if you are comfortable with the dungeons and your group, but Twist of Fate is a safer option if you are not.
Talents
As mentioned above Twist of Fate and Schism are competitive options in dungeons. Generally the higher into Mythic+ that you go, the less that Atonement alone will be able to sustain your tank and your team through increasingly damaging opponents.
Shadow Covenant can have some situational uses but is generally high-maintenance and not recommended for newer players until they are comfortable utilizing the rest of their kit. Its uses are often preemptive to better assist the tank when it needs spot healing via Shadow Mend or when you can use it for pure damage by casting Mind Sear on a high quantity of enemies.
Lenience while not flashy is your best option on the final row. The damage reduction that it can provide to the team is always great for the tank but also especially helpful for the Prideful affix when there is constant ticking damage going out.
More information about each of the individual talents in this build is provided on the talent page linked below:
Best Discipline Priest Covenant for Mythic+
Your ideal covenant for Discipline Priest in Mythic+ is the Kyrian. Its class ability, Boon of the Ascended, fills a gap in our toolkit, allowing us to better handle Tyrannical bosses and dangerous enemies through near-pure Atonement healing. Thanks to Spheres' Harmony and Effusive Anima Accelerator from Kyrian in 9.1 this gets even stronger. The large-upfront damage from Ascended Blast is excellent for generating heavy healing and the Ascended Eruption at the end can be very helpful for providing a final burst at the end of the cooldown.
In addition to this, Summon Steward and its subsequent Phial of Serenity can reduce a great deal of your own damage taken by removing bleeds, curses and poisons that you can not remove yourself.
Best Soulbind for Discipline Priest in Mythic+
Kyrian Discipline Priests will have a couple of new power-ups with additional renown, notably Effusive Anima Accelerator which will reduce the cooldown of Boon of the Ascended by 12 seconds per enemy hit, up to 60 seconds, greatly increasing your overall Atonement output, overall damage and reducing your need for Shadow Mend spam.
For more information on other Covenant Soulbinds, please see our Discipline Priest Covenant guides.
Best Shards of Domination for Discipline Priest in Mythic+
Shards of Domination is a new system for Sanctum of Domination gear that provides customizable bonuses by slotting Shards of Domination into specific gear pieces from Sanctum of Domination. By killing more bosses in the Sanctum of Domination raid, these Shards of Domination can be upgraded to become more powerful. While the 3-set bonus is not active in Mythic+, the effects of the individual Shards of Domination still apply.
Discipline Priests are focused on a Shard of Domination Build that enhances our healing and damage throughput in Mythic+. The 3-set bonus does not work in Mythic+ dungeons, so we don't need 3 Unholy Shards. For the final Shard of Domination, you can use Shard of Dyz or any other offensive Shard.
For more information on Shards of Domination, check out our Shards of Domination Discipline Priest page:
Season 2 Affix Tormented for Discipline Priest
Tormented adds four lieutenants to each dungeon, similar to the Awakened affix from Battle for Azeroth. Each lieutenant comes with a unique aura that applies to the entire party while engaged in combat and two special abilities. When the final boss of the dungeon is pulled, the auras of any alive lieutenants will be applied to the fight, making the final boss more difficult!
Defeating these lieutenants allows you to pick an Anima Power relevant to your role! You'll choose from 3 static Anima Powers, with each lieutenant offering a different set of Anima Powers.
Best Mythic+ Anima Powers for Discipline Priest
Each of the lieutenants in the Tormented affix will drop the same Anima Power choices every time you defeat them. As such, we've listed the best Anima Powers to choose from each lieutenant for Discipline Priest. If you want an explanation on why or possible alternatives, you can see the full explanation below.
Lieutenant Strategies for Discipline Priest
Soggodon rotates casting Massive Smash and Bindings of Misery. This grip in can be line of sighted and the chains that root players can easily be killed in time. Simply keep an eye on your tank and be ready to contribute some AoE damage to quickly kill off the chains in time before the smash.
Best Anima Power: You will pick The Stone Ward effectively all the time.
Arkolath is basically pride, but dispellable. Every 3s, everybody takes a bunch of fire damage. A cast from the mob applies Melt Soul to two targets every 8s, meaning that you will eventually get overwhelmed. There also is a kick component for the party in the Inferno cast. Get a kick-tracker and be prepared if everyone's kick is on cooldown.
Whenever Scorching Blast gets cast, simply move out of it. This can and should be baited somewhere where it does not matter, as it leaves a very long-lasting puddle on the floor.
Best Anima Power: Pedestal of Utter Hubris is a minor self-damaging effect that rewards massive haste for the rest of the dungeon, always take.
Oros Coldheart will cast Biting Cold, marking somebody with a (relatively large) circle of frost around them, dealing heavy damage to anybody in it, including the player. This cannot target the tank, but you should be aware of it as it does some large damage. Cold Snap will also be cast, forcing players to move away from the void zones that they spawn. Keep an eye on the positioning of your party and use Mind Soothe if need be to reduce the chances of your party pulling unintentionally.
Frost Lance is a Jaina-style frontal and should simply be sidestepped.
Best Anima Power: All of these powers are fairly weak, Portable Feeding Trough is good/decent selection, especially if the Executioner below is positioned near the end of the dungeon. Satchel of the Hunt is okay also if mana is not a concern.
Yes, Thanatophobia is as fun as you think it is. This makes this mob one of the most dangerous, I often look to cast Power Word: Barrier before his AoE of terror so that the player debuffed by the charge can stay in this barrier to mitigate the Carnage damage. Absorbs are not reduced by the overall debuff so use your Rapture carefully to get the most value.
Every so often, he casts Sever, leaving behing a nasty bleed; occasionally, he also charges a random DPS with Carnage, preferring ranged players. These can be line of sighted if targetted but if you are struck will require immense throughput to support, great time to use Power Word: Barrier or Pain Suppression.
Best Anima Power: Overflowing Chalice while nerfed is still strong for gaining more mana in Mythic+. Sometimes this mob is available very early in dungeons, like right after you kill the first boss in Theater but other times he is positioned near the end of the instance like with Halls where he can be positioned after Echelon and 80% of the trash is already done, in those situations look to Champion's Brand.
Dealing with Weekly Affixes as a Discipline Priest
We've listed some of the affixes present in Mythic+ when there is something to know about dealing with them as a Discipline Priest. The full list of affixes for a season can be found here:
Discipline Priest Mythic+ Dungeon Tips
We've separated the dungeons into different tabs so that you can refer to them quickly. Each dungeon also has its Wowhead Mechanics guide linked, so you can refer to all of the mechanics in that dungeon.
Discipline Priest Strengths and Weaknesses
Strengths

Weaknesses

Poor mana efficiency
Immobile
Low defensive power
Mistakes can snowball, heavy emphasis on preparing/anticipating damage
Discipline Priest Mythic+ Utility
Rapture: Large Absorbs
One of your most important tools in dungeons, greatly increasing the strength of your Power Word: Shield allowing blanketed absorbs to smooth out damage on the entire party or to provide rapid, mobile and on-demand support to individuals. One of the most frequent mistakes that new Discipline Priests make in dungeons is under-utilizing Rapture.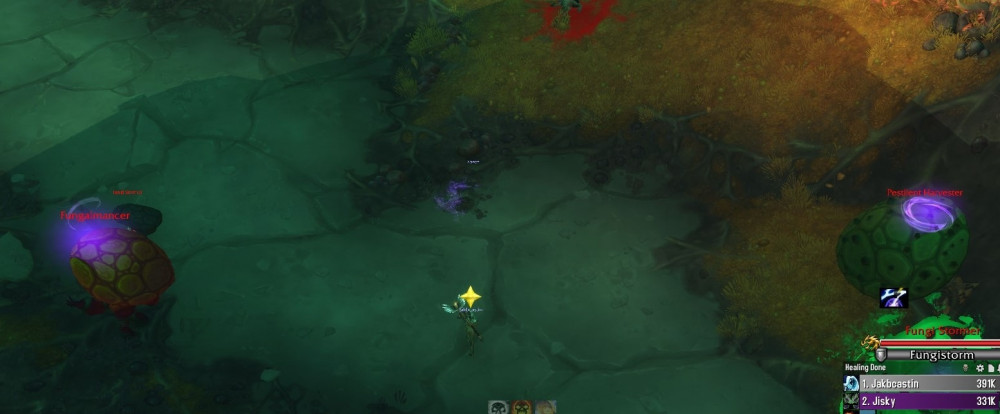 Casting Mind Soothe on both enemies creates that Purple effect over their heads, reducing their aggro radius allowing you to slip by without drawing threat. Priest STEALTH......of sorts!
Keep in mind that this is not a "true" Crowd Control. This reduces the radius with which you can move past humanoids or dragonkins. You can STILL aggro enemies if you move too close to them, you just have much more room to work with. This can save your team invisibility potions and a great deal of time putting together skips to optimize your routes!
Damage reduction is a key part of Discipline's Kit and the excellent damage reduction both abilities bring are crucial to your success in Mythic+. While lengthy in your cooldowns it is imperative to get frequent uses out of them to minimize damage taken, allowing you to spend more time healing through damage, killing enemies faster and making pulls safer.
Power Word: Barrier in particular is very strong against the Prideful affix, giving some crucial damage reduction against heavy AoE at high stacks.
Whether it is the Gushing Slime's Slime Coated buff leaving behind large void zones in Plaguefall, or the hard hitting Atal'ai Deathwalker's Spirit's Spectral buff, there are tons of dispellable buffs from enemies in dungeons.
Many of them will not alter the course of the entire dungeon if removed, but they're often a decent improvement to the safety and security of your dungeon groups. Be sure to keep an eye out for these various buffs in dungeons to quickly remove them and lower the pressure on your team and by extension pressure on you to heal through it!
These abilities are cast infrequently in dungeons but can have excellent uses in the proper scenarios. Mind Control for example can be excellent for the Bolstering affix. If you pull a group of equal health enemies but suddenly another full health mob wanders into the group, you can cast Mind Control BEFORE any bolster stacks are applied, hold that enemy until the others are killed, then release it when the other enemies are dead to avoid any bolster applications. This will not work on already bolstered enemies however.
Shackle Undead has a decent amount of utilization in dungeons like Plaguefall and Theater of Pain. For one, Shackle Undead can be great for immobilizing an undead enemy that is patrolling so you can sneak around it. The ghosts in Theater of Pain's Lich Ward are a good example of this situation. Other areas of use can be when you're dealing with a caster enemy and your team is out of interrupts. Instead you can spam cast Shackle Undead to constantly interrupt their ability casts and give your team more time to get their true interrupts back.
Finding Groups as a Discipline Priest - Improving Your Play in Mythic+
Whilst we may have mixed reviews regarding desirability in public opinion, every healer is capable of pushing high keys in Season 2. Healers all have to actively spend more time healing in Shadowlands dungeons and as a result stronger players will shine through regardless of their class.
Probably the best advice I could give to anybody right now, in the position in which our spec is, is to network. Build a list of trusted players you would like to keep running with. Run with a solid group and you enjoyed how the tank pulled, communicated or was willing to listen? ADD THEM. They're very likely in the same position as you, looking to find teammates to push keys and learn higher dungeons together. Things will likely get rougher as the community "meta" expectations solidify. This will also bring an element of consistency to your runs.
Another key aspect of your runs is the ability to improve, learn and adapt. This innately differentiates the good from the great: the ability to be introspective, to break down a run after completion, and learn from mistakes. One large element of this is the routine of logging your keys, locally recording your runs via OBS software and going over the logs/footage to identify areas that were problematic:
Pulls where people died
Pulls where cooldowns were required but not available, in order to identify where else they should be spent or what could be done to have them up
Individual elements of play that may not be up to standard
Rotational, micro (in-pull), or macro (pathing/routing) issues
This guide will walk you through common problems, pitfalls, and places to improve your gameplay as a Discipline Priest in order to maintain a competitive edge in Shadowlands. Many of the topics covered are based on the Discipline Priest rotations, so make sure you familiarize yourself with that information to get the most out of this guide.