Guide provided by Wowhead
Holy Priest Mythic+ Dungeon Tips & Tricks
Mythic+ is a special type of dungeon mode in World of Warcraft, offering players an endlessly-scaling challenge.
This page is meant to help optimize your Holy Priest in Mythic+ content by highlighting the best Holy Priest gear, best Holy Priest talent builds, and the best rotations to help you succeed in these challenging dungeons, as well as Holy specific tips and tricks both for individual dungeons and the Shadowlands Season 1 Prideful Affix in Shadowlands.
Best Legendaries for Holy Priest
At low-mid level Mythic+ (aka up to +17ish level keystones): Harmonious Apparatus or Flash Concentration can work, with the former offering very little maintenance to get good value out of and the latter requiring high maintenance but the best possible results.
Harmonious Apparatus: Simple and easy to work with. So long as you're properly using Circle of Healing and Prayer of Mending, you'll receive some excellent cooldown reduction over the course of dungeons. Faster cooldown reduction on your Holy Word: Serenity and Holy Word: Sanctify just means your healing becomes more efficient
Flash Concentration dominates with its powerful single target healing efficiency. This is fantastic for supporting tanks that are generally allergic to kiting and as a result will stay in melee fighting requiring constant heavy healing support. It can also be extremely effective for healing Prideful as even though this deals heavy AoE damage you can still efficiently pump outo strong throughput thanks to buffed Heal coupled with Trail of Light.
Dungeons in Shadowlands are extremely focused on group damage and it happens at a much greater frequency than your Holy Word: Sanctify and Holy Word: Serenity can fill at the high keystone levels. As a result Flash Concentration is your best end-game selection for taking your gameplay to the next level as it offers high throughput with good mana efficiency to deal with such heavy pressure while also being able to pace your mana in between Prideful buffs.
Best Holy Priest Mythic+ Talents
Mythic+
This Holy Priest build is focused for Mythic+ with the Flash Concentration legendary. While higher maintenance this build is the strongest for when you're in the most challenging keystones due to the high frequency of priority target healing and AoE healing, that is, when you must bomb huge healing into your tank at the same time that multiple members of the group are taking heavy damage as well. It is especially helpful for dungeons like Spires of Ascension or De Other Side which require very heavy single target throughput through enemy forces and bosses.
Benediction is selected over Divine Star to more easily heal Prideful and to better account for the range-heavy meta that exists in dungeon content.
Mythic+
This Holy Priest build is focused for Mythic+ with the Harmonious Apparatus legendary. Renew is much more worth the cast in dungeons (specifically with this legendary) now that group wide damage is consistent throughout both trash mobs and the Prideful affix enemies. This makes Renewed Faith a solid talent to take in dungeons to support your throughput. Really helpful on prideful to blanket Renew on your party, followed by rapid Prayer of Healing casts thanks to Prayer Circle.
Both talent builds operate with very different playstyles. Flash Concentration is heavily focused on Heal and Flash Heal uses to refresh the buff and you will rarely use Prayer of Healing. As a result you'll lean on heavy, efficient and immobile Heal casts to "whack-a-mole" your allies back to full. Losing the buff uptime is extremely punishing and will require practice to properly maintain. It is extremely strong with the Resonant Words conduit giving regular buffs to your Heal casts to make them even stronger.
With Apotheosis you can "Resonant Weave" with the Holy Word resets that Apotheosis provides you can easily cast many buffed Heal casts in between Holy Word: Serenity/Holy Word: Sanctify and Holy Word: Chastise casts to get large value per cast.
Holy Priest Mythic+ Utility
Less of "utility" per se but a very relevant part of their kit that deserves mention. With Shadowlands allowing for even more rapid holy word generation through Apotheosis's instant resets and bonus "follow up" healing synergy through Resonant Words, Holy Priest is better equipped than ever to rapidly top off the party for the heavy group damage that teams will sustain in Shadowlands dungeons.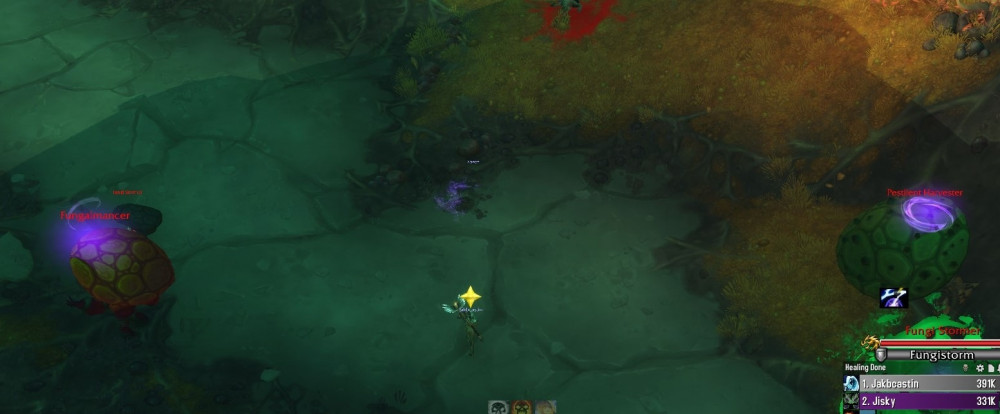 Casting Mind Soothe on both enemies creates that Purple effect over their heads, reducing their aggro radius allowing you to slip by without drawing threat. Priest STEALTH......of sorts!
Keep in mind that this is not a "true" Crowd Control. This reduces the radius with which you can move past humanoids or dragonkins. You can STILL aggro enemies if you move too close to them, you just have much more room to work with. This can save your team invisibility potions and a great deal of time putting together skips to optimize your routes!
Guardian Spirit is a bit of an oddity for tank externals but with the right tanks, those that can self heal effectively, this cooldown in conjunction with its synergizing talent is very powerful. Guardian Angel shaving the cooldown down to ~60 seconds also allows it to be used constantly throughout the dungeon, allowing the tank to more consistently heal themselves in areas where your attention may be focused more on damage or healing.
If your tank is not as effective of a self-healer, you can still get frequent use out of Guardian Spirit and will simply keep an eye on them more. Pairing it with a Holy Word: Serenity can almost always help top off your tank in a flash.
Whether it is the Gushing Slime's Slime Coated buff leaving behind large void zones in Plaguefall, or the hard hitting Atal'ai Deathwalker's Spirit's Spectral buff, there are tons of dispellable buffs from enemies in dungeons. [/op]
Many of them will not alter the course of the entire dungeon if removed, but they're often a decent improvement to the safety and security of your dungeon groups. Be sure to keep an eye out for these various buffs in dungeons to quickly remove them and lower the pressure on your team and by extension pressure on you to heal through it!
These abilities are cast infrequently in dungeons but can have excellent uses in the proper scenarios. Mind Control for example can be excellent for the Bolstering affix. If you pull a group of equal health enemies but suddenly another full health mob wanders into the group, you can cast Mind Control BEFORE any bolster stacks are applied, hold that enemy until the others are killed, then release it when the other enemies are dead to avoid any bolster applications. This will not work on already bolstered enemies however.
Shackle Undead has a decent amount of utilization in dungeons like Plaguefall and Theater of Pain. For one, Shackle Undead can be great for immobilizing an undead enemy that is patrolling so you can sneak around it. The ghosts in Theater of Pain's Lich Ward are a good example of this situation. Other areas of use can be when you're dealing with a caster enemy and your team is out of interrupts. Instead you can spam cast Shackle Undead to constantly interrupt their ability casts and give your team more time to get their true interrupts back.
Dealing with Weekly Affixes as a Holy Priest
We've listed some of the affixes present in Mythic+ when there is something to know about dealing with them as a Holy Priest. The full list of affixes for a season can be found here:
Tier 10+ Season Affix - Prideful for Holy Priest
Before we get into this, a word on the seasonal affix for Shadowlands S1: Prideful.
Prideful is, in many ways, reminiscent of Reaping. Much like the affix of yore, this one causes a single mob to spawn the moment the forces cleared in the dungeon goes past 20%, 40%, 60%, 80% and 100%. This mob does some pulsing AoE damage to the entire group when it spawns; it then engages you in combat. It has two abilities:
Bursting With Pride is a pulsing AoE emitted from the Manifestation of Pride, with a 65yd range. Each time it is cast, the Manifestation of Pride gains a stack of Bursting With Pride, increasing the damage this does by 40%, stacking. There is nothing you can do to prevent this other than killing it before it kills you.
Belligerent Boast causes a player to grow in size and be surrounded by four red orbs. These orbs follower the player's hitbox, and are aimed north, south, east, west. After a short period of time, each orb emits a beam in the direction it was pointing in. To counter this, if you are picked, do not move. If you are not picked, quickly check who is picked, and make sure to get out of the way if one of them is pointing in your direction, making sure to also leave space for the melee.
Prideful is extremely dangerous to Holy Priests and is a big reason for why the high mana efficiency of Resonant Words, Flash Concentration, Heal and Apotheosis are so powerful for even the highest of keystones. While Holy Priest is not often viewed as a "premier" spec for pushing high-end Mythic+, I can personally confirm (as shown in the videos below) that Holy Priest can absolutely perform well at high levels. It does an exceptional job of attrition healing through high level Pridefuls with Divine Hymn and Apotheosis both playing a major role and the natural high throughput of Flash Concentration goes a long way towards supporting both the tank and other priority targets.
Make sure your team is standing relatively close together and coordinate who needs to move to get out of the way of the Belligerent Boast. A loose-spread group will make it easier to fit players in range of Holy Word: Sanctify at high stacks to heal the incoming damage. Cast Divine Hymn at around 10-12 stacks of the Prideful enemy, then follow through with Heal casts onto the lowest targets and avoid fully topping allies to continue to gain value from Trail of Light. You can always drop Guardian Spirit onto an ally to make it easier to heal them and I often like to hold Apotheosis for Prideful when possible to gain a quick burst of Holy Words and the resulting Resonant Words buffed Heal casts that will follow.
When you defeat it, your entire group gains Prideful, granting everybody damage, movement speed, and mana regen. This is the ideal time to pull big! As a result, many DPS will look to HOLD their cooldowns during Prideful meaning you need to use your healing cooldowns to heal through the increasing stacks due to the likely low damage that will be on the enemy! Apotheosis will almost always be used on Prideful at higher keys. If you do not need to use Apotheosis or you get it back during the Prideful look to hold onto it until after the buff has ended so you can reap the benefits of this powerful cooldown at a point in time where you're not getting constant mana regen. This will effectively allow you to spam and burn mana during periods where you'll easily regen it with Prideful and then you'll use Apotheosis to be more efficient after the buff has gone.
Holy Priest Mythic+ Dungeon Tips
We've separated the dungeons into different tabs so that you can refer to them quickly. Each dungeon also has its Wowhead Mechanics guide linked, so you can refer to all of the mechanics in that dungeon.
Best Holy Priest Covenant for Mythic+
In Mythic+ the Necrolord is as an excellent covenant for dungeon content. Some of the biggest challenges Holy Priest will have is the Prideful enemy and some select Tyrannical bosses. Holy will benefit the most with a stacked team, a bursty Covenant ability and follow up buffs. This is exactly what Unholy Nova provides with Emeni. As stacks increase, communicating with your team to stack, then cast Unholy Nova on your party and follow through with Holy Word: Sanctify or Divine Hymn to sustain your team through the worst of the damage is remarkably effective.
On Tyrannical bosses, you often will leverage Lead by Example for key moments where your Flash Heal and Holy Word: Serenity will need to be as strong as possible to deal with high pressure mechanics on individuals or even on your entire team. If there's no damage going out that needs heavy healing, simply tossing out Unholy Nova for pure damage also shores up Holy's low passive damage in dungeons, making it much more competitive.
More detailed information on the various Covenants is available below. You can familiarize yourself with the abilities at your disposal, and their uses:
Best Soulbinds for Holy Priest in Mythic+
Our primary concerns on any Soulbind tree are, in order:
Good generic traits on the Soulbind, that ideally lends them well to Mythic+
Ideally one Potency and one Endurance Conduit
The following is a list of soulbinds that are good early on that you can take advantage of:
Venthyr

: Nadjia: It is worth knowing that Door of Shadows comes with an AoE disorient on use with this Soulbind. Whilst not amazing, it can be situationally impactful as

yet another

soft interrupt. Her Thrill Seeker buff can drop quickly out of combat, but in a high tempo dungeon run it will get much better uptime. There are some concerns about dropping Theotar's mastery buff or having to move away from it in a dungeon environment.

Kyrian

- Pelagos: Solid all around granting you a potency and an endurance rapidly. Finesse conduits are generally niche in dungeons while extra defensives are more universal.

Night Fae

- Niya or Dreamweaver: Niya's first ability is just generally helpful with secondary stats but Dreamweaver is the earlier 2nd potency slot which can be extremely helpful as well.

Necrolord

- Enemi: The Lead by Example trait is just generally helpful for increasing your throughput on demand. While it does not grant an endurance early, thats acceptable given the power of Emeni for Holy.
Holy Priest Strengths
Holy's kit has not changed greatly in a Mythic+ environment, but the dungeons themselves have become more group-damage oriented which in turn becomes extremely favorable to Holy's kit. Holy Words are generally the "bounce back" from incoming damage and that is put into overdrive in Shadowlands as Holy Word generation is further accelerated as Apotheosis instantly resets holy words.
Instant Prayer of Mending is a huge boon in dealing with consistent damage that may go out in a dungeon and with now-baseline Circle of Healing lends some much needed mobility to the spec. Prideful is all about steady damage and often lead to attrition healing encounters at high keys where the player must maintain a certain high level of HPS to keep the party alive, especially as DPS save their cooldowns so they can take advantage of them on the next trash pack with Pride's buff.
As mentioned previously, Holy Words generate faster than ever allowing for Holy Word: Chastise to be cast more frequently and produce even more stuns via Censure. Constant use with multiple different targets can provide a surprising amount of effective "damage reduction" to your tank by just reducing melee swings and damaging abilities flowing into them. Holy has a surprisingly versatile kit for dungeon content and can assuredly push high keys.
Holy Priest Mythic+ Weaknesses
Many of the weak points of Holy Priest are shored up through the covenant ability Unholy Nova. Low passive damage for example quickly increases thanks to covenants and the on-demand intellect bonus from soulbinds gives flexibility in strong areas as well.
There are still some gaps in Holy Words that can create tank or priority target vulnerability. These are generally narrow areas outside of Apotheosis where all allies are continuing to take heavy aoe damage with the only relief being Heal spam. To dig out of this hole, triage healing and setting priorities on who needs the most healing right now is key. The Resonant Words conduit provides strong follow-up healing after a Holy Word cast and works on all 3 words. So if you know a pull will last longer, consider banking that Holy Word: Chastise cast to force a new Resonant Words proc and stun a key enemy at the same time.
It is also extremely tempted to use Guardian Spirit like a "win more" ability. Placing it early on the tank to allow them to sustain themselves early while you contribute damage. Really talk to your tank more about your Guardian Spirit usage and experiment yourself on using it earlier and later in pulls to maximize the bonus healing and/or cheat death that it provides.
Finding Groups as a Holy Priest - Improving Your Play in Mythic+
While Holy Priests have negative reviews regarding desirability in public opinion, every healer is capable of pushing high keys in Season 1 and Holy is no different. I personally, was declined in groups in Beta of all places by players who had never played with Holy Priest before and automatically assumed they were bad. To respond, I relentlessly bugged them until they invited me, I healed the dungeon fine, we timed it and they came away with a different outlook on the spec.
On live servers, I started by playing Discipline with my coordinated group of friends and began to experiment with playing Holy in keys 1 or 2 levels lower than what I had achieved as Discipline. Over time, my group realized how comfortable it could be to run with the spec and trusted me to make the best decision to help the team chest the next key. As a result I've been playing more and more Holy Priest and was the first Holy Priest to surpass 2500 score on Raider.io in Season 1 and the first Holy Priest to chest a +23 dungeon. It is very frustrating dealing with the ignorance of pugs but you yourself can be an active catalyst for changing community perception. You already are looking to improve yourself if you're reading this guide, keep going!
Healers all have to actively spend more time healing in Shadowlands dungeons and as a result stronger healers will shine through regardless of their class.
Probably the best advice I could give to anybody right now, in the position in which our spec is, is to network. Build a list of trusted players you would like to keep running with. Run with a solid group and you enjoyed how the tank pulled, communicated or was willing to listen? ADD THEM. They're very likely in the same position as you, looking to find teammates to push keys and learn higher dungeons together. Things will likely get rougher as the community "meta" expectations solidify. This will also bring an element of consistency to your runs.
Another key aspect of your runs is the ability to improve, learn and adapt. This innately differentiates the good from the great: the ability to be introspective, to break down a run after completion, and learn from mistakes. One large element of this is the routine of logging your keys, locally recording your runs via OBS software and going over the logs/footage to identify areas that were problematic:
Pulls where people died
Pulls where cooldowns were required but not available, in order to identify where else they should be spent or what could be done to have them up
Individual elements of play that may not be up to standard
Rotational, micro (in-pull), or macro (pathing/routing) issues
The Importance of Raider.IO Score
Raider.IO
is a third-party website tracking keys being
completed
by individual players. They do this by watching the Mythic+ leader boards provided by Blizzard and, effectively "ranking" you amongst your peers in your role (Healer), class (Priest) and specialization (Holy).
It does not get information about how well the key went
, merely the group composition for it, and the final timer.
A lot of the un-organized pugging scene revolves around the Raider.IO score that this website provides; this is, effectively, a sum of the score associated with each of your best keys, and allows you to put a metric on how high somebody's best runs were.
If you're interested in pushing keys, this number will naturally go up. The advice above will get you there, but you will need to be aware of the limitations of this system and the preconceived biases others may have around what a "low" score may be, for instance. The other, bigger issue is that this score hides your actual ability more often than not, and this cuts both ways. Weak players can rank higher, thanks to their groups being stronger than they are, whilst stronger players may have been unlucky and been in weaker groups.
You are not alone
in wanting to improve your score
in wanting to have consistent and successful dungeon runs
in wanting to have friends to play with.
So. many. others. are just like you. Sometimes you need to be the catalyst for change in your game experience. If guildies aren't interested, build your network. PuG, add the best performers from each run to your friends list, make discord groups, make friends and socialize. It's an MMO after all!
This guide will walk you through common problems, pitfalls, and places to improve your gameplay as a Holy Priest in order to maintain a competitive edge in Shadowlands. Many of the topics covered are based on the Holy Priest rotations, so make sure you familiarize yourself with that information to get the most out of this guide.